8 Reasons Your Dirt Bike Is Overheating & How To Fix Them
Some of the most common causes a dirt bike would overheat are not always so obvious. Here's what to look for and how to fix it.
If you're trying to tell if your dirt bike is overheating the signs might only become obvious once your bike starts to boil. By then it might be too late to take preventative action. 4 Stroke dirt bike engines are designed to operate in the temperature range of 82°C – 104°C (180°F – 220°F). Riding your 4 stroke for extended periods at temperatures above this range will cause the engine in your 4 stroke dirt bike to overheat. On a 2 stroke dirt bike, average riding temperatures can range from 62°C – 82°C (145°F – 180°F) but can increase beyond the point of boiling.
How To Tell If Your Dirt Bike Is Overheating
The most obvious signs that your dirt bike is overheating include the following;
Common Reasons A Dirt Bike Would Overheat
There are a number of reasons why a dirt bike might overheat. This could be due to the riding terrain or a fault in the bike. Rough technical terrain can often lead to overheating when the bike's engine is constantly being pushed into higher revs, which makes the engine have to work harder, without getting much airflow. One of the most common causes of an overheating dirt bike is low or no water-coolant mix in the radiator. Some other common reasons include;
Why is My 4 Stroke Dirt Bike Overheating
A common reason for 4 stroke dirt bikes to overheat is due to not enough airflow. If you've read our guide to warming up your dirt bike you'll know that letting your bike stand and idle for too long can cause damage. This is because there is not enough air flowing over the radiators and not enough fuel flowing into the engine. 4 stroke dirt bikes need to be ridden fairly hard, in order to keep the engine cool.
Check out our guide to choosing the best 4 stroke for single track and woods riding.

First Checkpoint
Why is My 2 Stroke Dirt Bike Overheating
The most common reasons a 2 stroke dirt bike would overheat are a faulty cooling system, inefficient engine lubrication, or insufficient air intake. These causes all have something in common. They are all causing the engine to work harder than necessary which causes friction and eventually overheating.
The cooling process has evolved over years. Nowadays, dirt bike engines are cooled in two ways. Air cooled and liquid cooled. Check out this neat video for an explanation
Replacement Parts To Prevent Your Dirt Bike From Overheating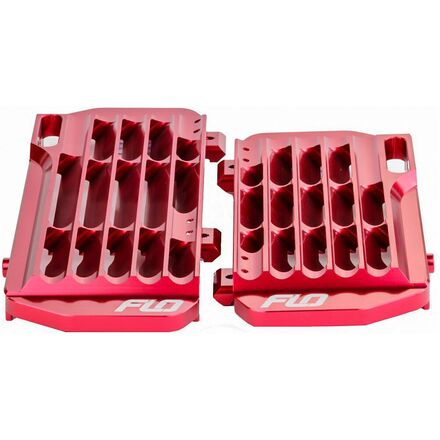 There are a few common sense tips that you can use before and during every ride to help prevent your dirt bike from overheating;
Riding Tips To Prevent Your Dirt BIke From Overheating
As a rider there are a few simple riding techniques you can implement to help prevent overheating.