How To Sell A Motorcycle On Craigslist – Step by Step Guide
Craigslist is a great way to sell a motorcycle online. The costs are low and the process can be swift and painless (if done correctly).
We live in a world where trust is hard-earned and easily lost. It's no wonder there are so many skeptics about online sales. Don't get me wrong, I've also bought things I don't really need, which never really arrived.
Things are slightly different when it comes to selling or buying a motorcycle on Craigslist. When dealing with an item of this nature, being alert and pedantic is the norm – and other people realize that too. If you're feeling rushed and uncomfortable in a sales situation, remember that neither party HAS to act now. It is always OK to take your time. But never waste someone else's time.
How To Sell A Motorcycle On Craigslist
1. Inspect and Prepare Your Motorcycle
This is the first step to selling a bike on Craigslist. Use the basic checklist in this guide to get an idea of the overall quality of the motorcycle. This also gives you the opportunity to make some quick fixes that could result in a better deal.
What To Inspect When Buying or Selling a Motorcycle on Craigslist
I've covered an extensive guide to inspecting and applying some quick easy fixes to your bike prior to selling. These tips for inspecting and fixing your motorcycle before selling could help you get a better price. If you ever find yourself in the buyers shoes, or want to get an idea of the type of things buyers should be lookout for, read my motorcycle buyers guide.
A simple inspection checklist would include:
2. Take Pictures
While this might seem obvious to some, nothing annoys me more than trying to buy something online from bad pictures. Make sure there is enough lighting. If you are trying to highlight something on the bike, point it out or make sure whatever you are trying to show is actually visible.
Take More Pictures!
Too many is always better than too few. Use the checklist above as a reference. For each part that you inspect on the checklist, take a picture and upload it. Include pictures of any extra parts or pieces that you have.
Here is a sample of what good-looking pictures look like.

2.Know Your Price
Understanding the current worth of the motorcycle will put you in a good position to spot and differentiate real offers and from annoying chancers. This will save you time in negotiating with non-serious buyers as well as frustration from lowball offers.
We all know how the world of negotiation works. List at the price you'd like to receive and accept the offer at your bottom line. Have both prices set in your mind before you create your listing.
What is the market value of my motorcycle?
This really depends on a few factors.
My favorite way of determining the market value is to scour the web for other bikes with similar specs. You'll quickly get a good idea of what is considered a good deal.
As a seller, you could save time and effort for both parties by having the bike appraised using the Kelley Blue Book service or from Naga guides.
3. Placing Your Ad on Craigslist
It will cost you $5 dollars to list your motorcycle on Craigslist. Make sure your listing looks legitimate and is done properly containing all the vital information and pictures that potential buyers will want to see. This will help with the trust and quality factor from the buyers' point of view. To make a clear standout ad on Craigslist, following these tips:
Make sure you are listing the ad under the Motorcycles category.
Create your listing using the make and model and any other single feature you want to call out. Perhaps condition – "outstanding" or reason for selling "emigrating"/"upgrading". Perhaps you cannot deliver the bike "Pick up in …".
Make sure you use great quality and detailed pictures. (Good thing you did that inspection earlier).
Fill out as much useful information as possible in the description. You should not leave any potential buyers with any other questions.
List all repairs, scratches, and overall condition.
List all extras and features.
You might even consider adding a link in the description to a short YouTube video of you riding the bike.
Elaborate on your reason for selling – people like to know that they are actually dealing with another human.
Disclose your preferred method of payment. Cash or check?
Provide your cellphone number. This helps to sell faster, and filter out potential frauds.
Good Example Motorcycle Ad on Craigslist
Here is a great sample of what a motorcycle ad should look like on Craigslist.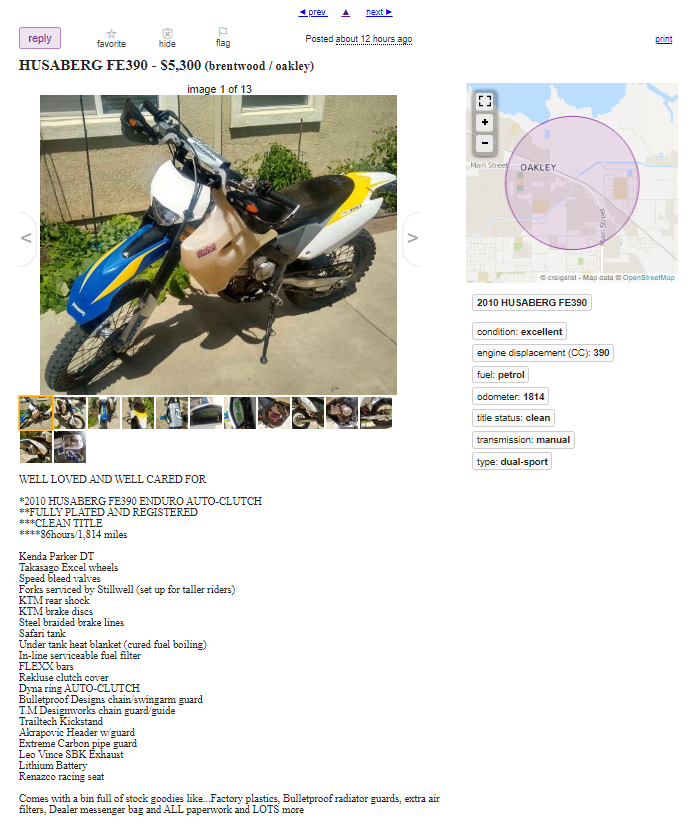 4. Negotiating with Potential Buyers
This may be the hardest part of any online transaction, but it doesn't need to be. If you're able to vet out the scammers and spot the solid potential buyers it's easy to sell a motorcycle on Craigslist. By validating your potential buyer, you are at the same time, avoid potential scammers.
How To validate Buyers and Avoid Scammers
With a little bit of "internet intellect", it's easy to spot scam traps. The easier way to verify your potential buyer is to simply talk to them over the phone. Not SMS, Instagram, or Email. Arrange a quick call with them to discuss the sale or any casual topic.
My favorite question is: "Do you have any other bikes". It works like a charm to get someone to open up and start talking.
Scammers will rarely take calls. Speaking to a person directly is also the best way to get a better idea of the type of person you're dealing with. If a person refuses a phone call, pay careful attention to their sentence structure and punctuation. This is often a good way to spot an imposter.
Arrange a meetup if possible. It's a good idea to sell your motorcycle to a person that is able to meet you in person and can provide proof
If someone is offering you the money without negotiating, either you've set the price too low, you've set the price just right, or you're being scammed. It's up to you to make that call – try making that phone call.
If you are still suspicious – ask for proof of funds. Not everyone will agree to this but it's worth a try.
5. Test Rides
Potential buyers may request a test ride. This is only fair. Make sure you only allow serious buyers to take your bike for a test ride. There is a right way and a wrong way to do this.
Make sure they have a valid license
Arrange to meet at a safe place, a mall parking lot or outside a police station will do.
Ask to keep collateral – this could be in the form of a deposit, post-dated check, an ID, their car keys.
You should both decide on a route together. This way you know how far they are going, and how long they should take.
You could ask them to share their live WhatsApp location so you can see where they are at all times.
Check with both insurance parties for liability in the event of an accident
6. Documents Needed To Sell a Motorcycle on Craigslist
To sell a motorcycle on Craigslist, you need to have two important documents ready. A bill of sale, and the title to the motorcycle.
Bill of Sale
A bill of sale is a legally binding contract between buyers and sellers. It includes the following details:
Date and location of the sale.
Seller's name, address, signature.
Buyer's name, address, signature.
Vehicle information (year, make, model, color, odometer, VIN, etc.)
Any other details or warranties that have been agreed upon. (e.g. As-is, no title, on conditions, etc.)
This is essentially the receipt of sale and keeps both the buy and seller safe. Both the buyer and seller require an original signed copy.
Below is a downloadable Motorcycle Bill of Sale for you to use.
Title
Since a motorcycle is considered a "motor vehicle" in most states – motor vehicle title laws apply.(source)
The seller must sign the title and hand it over to the buyer. The buyer would then use the signed title to apply for a new title in his/her name in their residing state.
Some states allow the bill of sale to be used instead of the title. You would need to submit an application to the Department of Motor Vehicles (DMV) in your state in order to get a title from a bill of sale.
You can find your correct Department of Motor Vehicles from this list.
The National Motor Vehicle Title Information System is a large database of files and registrations for most vehicles. You can search the database using the title number and corresponding VIN number. Although it is not a free service, the cost is minor and you will have instant proof of a legitimate title.
7. Payment
Once everything has been agreed upon, you and the buyer are both happy with the ride, and you have copies of all the documents, it's time to get down to business.
Part of your agreement should involve the method of payment. If you have agreed on cash, the buyer should hand over the cash at the same time as handing over the title, and keys. Don't accept a deposit or half payment, unless the other half has already been wired transferred into your account. If you are accepting a check, it's advisable to do so inside the bank where the check can be validated by an official bank employee.
8. What To Do After Selling Your Motorcycle On Craigslist
Congratulations! At this point, you have officially sold your motorcycle to a new happy owner. As a final checklist of completed sale, make sure you are able to tick off all the following items:
Ensure you have received the payment.
Hand over the title to the buyer and you both keep a copy of the bill of sale.
Remove the Ad from Craigslist
Cancel your motorcycle insurance
Return your vehicle registration plates to your local DMV (only some states and non-personalized number plates)