Best 4 Stroke Trail Dirt Bikes (Race vs. Fun)
Choosing the right 4 stroke dirt bike for trail riding can be more complicated than it seems. This guide will ask you the questions you should be asking yourself. By the end you should know exactly which 4 stroke dirt bike is right for you.
There are many types of 4 stroke dirt bikes on the market today, but this blog post will be focusing on the best trail bikes. Best for what? Best for all sorts of riding! We'll talk about how to pick a bike that suits your needs and then we'll review some of the top 4 stroke trail dirt bikes. You'll learn which bikes are best for different types of riding. We will be reviewing some great bikes from top brands like KTM, Yamaha, Honda, and more!
Give yourself some time to look over these bikes before you make a purchase – they're worth it!
Before jumping into the best 4 strokes for trail riding, you need to narrow down your options. The best way to do this is to ask yourself a few simple questions.
Different Types Of Dirt Bike Trail Riding
Choosing the right type of 4 stoke for trail riding will depend on the type of terrain you plan to ride. Pro riders can ride just about any bike in just about any type of terrain. But, for riders like you and me, the terrain will play a big factor in our decision. Apart from terrain, the right choice also depends on your "why". Why do you want the dirt bike in the first place?
Best 4 Stroke Dirt Bikes For Casual Trail Riding
If you're looking to buy a 4 stroke for leisurely riding and you're not too considered with top speeds or corner handling there are other options better suited to your needs. These lower performance models will also save you a ton of cash compared to their racing rivals. Your best options would be:
Honda CRF250F
Kawasaki KLX230R
Yamaha TTR230
Best 4 Stroke Dirt Bikes For Trail Racing
Some 4 strokes are better suited to fast open-throttle riding through grass fields and dirt roads. In this case, you would want to look at a high-performance enduro dirt bike. These come in a wide range of engine sizes, from 250 all the way to 500. Your best options are going to be:
Honda CRF250RX
Yamaha YZ250FX
KTM 250 XC-F
If you want even more power, consider the Yamaha WR450F and the KTM 500 EXC.
Motocross Bikes VS Trail Bikes
Trail dirt bikes are different from motocross dirt bikes. A motocross dirt bike is designed specifically for racing on a track. They have high horsepower and the power to carry riders over jumps, which makes them great fun but perhaps not suitable as an all-purpose trail bike.
On the other hand, trail bikes are more versatile because they can be ridden in many different types of terrain, but are not designed for hard enduro racing or motocross tracks. Check out this guide to the different types of dirt bikes. You could even say that the best trail bikes make for the worst motocross bikes and vice versa. While motocross bikes are capable of riding trails too, they will most likely suffer from overeating which could result in engine seizure.
Worst 4 Stroke Trail Bikes
A few examples of bad 4 stroke dirt bikes for trail riding include:
250cc vs 450cc 4 Stroke For Trail Riding
While a 250cc four-stroke is better the better option for riding in slower, tighter trails, with the right level of riding skill, the 450cc can get the job done just as well. A 250cc four-stroke dirt bike is lighter than the 450cc making it easier to handle in technical terrain. A 450cc four-stroke dirt bike will be better suited to faster riding in open, less technical trails.
For most riders, a 250cc will have more than enough power to tackle any trail. For the heavier guys out there, it might be worth testing your buddy's 450 to see which one you feel more comfortable on.
Best 250cc 4 Stroke Trail Bike
Putting your finger on one single 250cc 4 stroke dirt bike that is best at everything is really difficult. There are many great options.
There are many different 250 models that are designed for trail riding. Honda has the CRF250F for beginner trail riders. Check out my guide to dirt bikes for beginner adults. the CRF250X for intermediate and experienced trail riders, and the CRF250RX for enduro riders that want a race bike that can still handle technical terrain in the woods.
My recommended 250cc 4 stroke dirt bikes for trail riding are:
Honda CRF250F
Honda CRF250X
Yamaha WR250F
Best 4 Stroke Trail Bike For Beginner Riders
I started riding dirt bikes on a Honda XR100. By the time I grew out of this bike my next decision was between the Honda CRF230F and the Kawasaki KDX200. Ultimately my father and I both ended up on the 2 stroke Kawasaki. This choice came down to the type of riding we were doing. Although the CRF230F would have handled our riding just fine!
The Honda CRF230F was discontinued in 2019 and replaced by the new CRF250F which I recommend as the best 4 stroke dirt bike for beginner trail riders.
Honda CRF250F
The Honda CRF250F has a ton of features that make it an incredible bike for beginner and experienced riders alike. My two favorite features of the new model have got to be the electric start and the fuel injection system.
4 Strokes are notorious for being harder to kickstart than a 2 stroke. If you've ever found yourself stalling on a rocky climb, you'll know what a blessing an electric starter is. My KDX200 never had an electric start and this often destroyed my ride.
Many of the bikes developed today have moved away from a carburetor to a fuel injection system. This has many advantages. One of them being the ability to dynamically adjust your air-fuel ratio to help start your bike in cold weather and help prevent running too rich or lean.
This bike is perfect for beginners as it has a relatively low seat height of 34.8″ compared to standard 4 strokes like the Kawasaki KLX230R which has a seat height of 36.2″. The shorter wheelbase makes it extremely agile. The predecessor – the 230F was notorious for being reliable and the 250F is no different. Replacements parts are widely available and often cost less than direct rivals.
If you find the back to feel a bit small, there are tons of mods and bike settings you can adjust. Follow my guide to dirt bike setup and mods for tall riders to get the perfect setup.
| Model | Honda CRF250F |
| --- | --- |
| ENGINE | |
| Type | 250cc air-cooled 15º single-cylinder four-stroke |
| Valve Train | SOHC; 4 valves |
| Bore x Stroke | 71.0mm x 63.0mm |
| Compression Ratio | 9.6:1 |
| Induction | Fuel-injection system; 34mm throttle bore |
| Ignition | Full transistorized |
| Starter | Push-button electric starter |
| Transmission | Constant-mesh 5-speed return; manual |
| Clutch | Multiplate wet |
| Final Drive | #520 chain; 13T/50T |
| SUSPENSION | |
| Front | 41mm conventional telescopic coil-spring fork; 8.5 in. travel |
| Rear | Pro-Link system w/ single shock; 9.1 in. travel |
| BRAKES | |
| Front | Hydraulic; single 240mm disc |
| Rear | Hydraulic; single 220mm disc |
| TIRES | |
| Front | 80/100-21 w/ tube |
| Rear | 100/100-18 w/ tube |
| MEASUREMENTS | |
| Rake (Caster Angle) | 26°5' |
| Trail | 102mm |
| Length | 83.0 in. |
| Width | 31.4 in. |
| Height | 46.7 in. |
| Ground Clearance | 11.3 in. |
| Seat Height | 34.8 in. |
| Wheelbase | 55.9 in. |
| Fuel Capacity | 1.6 gal. |
| Color | Red |
| Curb Weight* | 265 lbs. |
Best Used 4 Stroke Dirt Bikes For Trail Riding
Not everyone out there can afford to buy a brand new dirt bike. I don't think I've ever bought a brand new dirt bike. If you're planning to buy a used bike, you need to know what to look for. Firstly, if you're buying used, buy a reliable bike from a reliable source. It's worth looking into the cost of maintenance for different models and the cost of replacement parts. Some of the best 4 used stroke dirt bikes for beginners include:
Honda XR100
Yamaha TTR125L/E
Honda CRF230F
Honda XR250
Kawasaki KLX300R
Most Reliable 4 Stroke Trail Bikes
While reliability is part dependant on the manufacturer, it also depends on the rider and how well maintained the bike is. if you're looking for reliability, lower performance 4 strokes will be your best bet. The fewer moving parts, the less maintenance and the less chance of anything going wrong. Engine reliability also comes down to a proper dirt bike engine break-in procedure.
The most reliable 4 strokes are usually air-cooled, not liquid-cooled. Beginner 4 strokes also check off my list of reliability and durability. You won't go wrong with the Honda CRF250F, Kawasaki KLX230R, or the Yamaha TTR230. Just make sure you run through your standard maintenance checklist.
Best 4 Stroke For Thick Sand & Desert Trails
Trail bikes designed for thick sand and desert riding often have larger performance engines. Thick sand and desert riding put more strain on the motor and so you would need more torque and horsepower to avoid regular shifting.
If you look at some of the big cross country races like the Baja 1000, you'll find that riders usually race on 450cc 4 strokes or even larger engine capacities. Typical 4 stroke desert trail bikes are:
Yamaha WR450F
Honda CRF450X
KTM 500EXC-F
I used to ride with a guy who rode the big KTM 500EXC-F for all our enduro riding. I never knew how he was able to take on the same technical passes that I struggled to learn on my little KDX200. It just goes to show that engine size and stroke are not the only factors to consider. Rider skill is always going to be the primary factor.
Best 4 Stroke For Fast Woods & Single Track
If you look at what pro racers ride in the GNCC Racing Championship you will find all the top racers use mean weapons in the 4 stroke range. The smallest you're going to see being ridden by the pros in the top division is a 350cc four-stroke.
To throw down serious power while still being light and nimble, you want to look for a lightweight bike with a short wheelbase. While the smaller CRF230F and KLX230R are fantastic single-track trail riding dirt bikes, they do not offer the same power and performance you would find if you're looking to get involved in single-track racing. They are also lacking in suspension and gear ratios.
The best 4 stroke bikes for fast single track riding would be:
KTM 350 XC-F
Beta 430 RR
Husqvarna FC 450
Kawasaki KLX 300R
Yamaha YZ450FX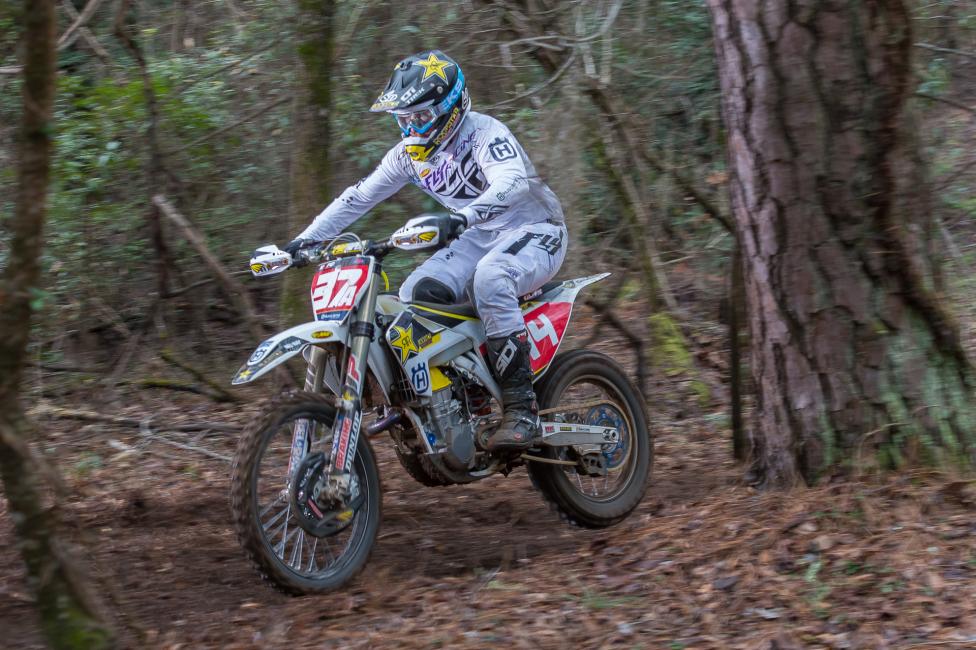 Last Checkpoint
As you can see, the decision on which 4 stroke dirt bike depends on a number of factors. I suggest taking some time to consider exactly what you want to use the bike for. If you're a beginner, stick to the entry-level 4 strokes. They're reliable and hold their value really well. That means that when you have enough experience and want to move to a higher performance 4 stroke, you can sell it and recoup a large portion of the initial cost. Keep in mind that the racing 4 strokes are going to be less reliable and more costly to maintain.
If you're riding in thick sand, you should consider a 4 stroke with a larger engine size. The same can be said if you intend to do any racing. Although if you plan to be doing casual enduro riding, you don't need a full race-spec bike, but you may need something a little better than your beginner 4 stroke.
If you have any questions or suggestions, please drop a comment below and I'll be happy to help wherever I can.